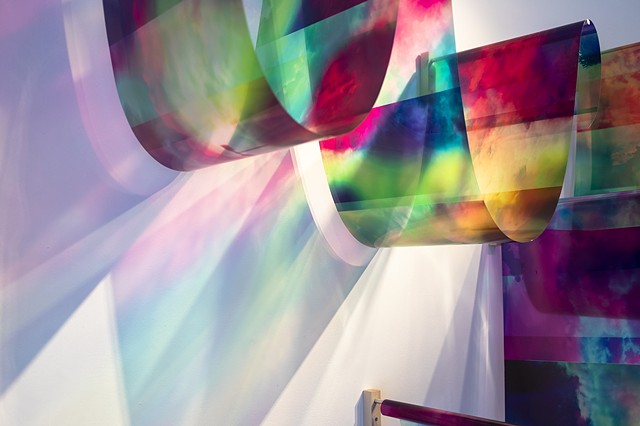 Natalie Hunter is from Hamilton, Ontario, Canada. She works between photography, installation, sculpture, and the moving image, and is mostly known for her multilayered and experiential photo-based installations on transparent film. With a fascination for both image making and working with materials by hand, she explores ephemeral and immaterial concepts like time, light, memory, space, temporality, perception, and the senses, through material, image, and form. In both image making, sculpture, and their installation, light is fundamental to her process.
She holds an MFA from the University of Waterloo, and a Bachelor of Art in Visual Art with a Concentration in Curatorial Studies from Brock University (First Class Standing). She has shown her work in public art galleries and artist-run-centres across Canada, including: Rodman Hall Arts Centre, Art Gallery of Hamilton, Smokestack Gallery, Hamilton Supercrawl, Hamilton Winterfest, University of Waterloo Art Gallery, Thames Art Gallery, Mississauga Living Arts Centre, Art Gallery of Windsor, Centre 3 for Artistic and Social Practice, Factory Media Centre, Hamilton Artists Inc., Latcham Art Centre, Museum London, Propeller Art Gallery, John B. Aird Gallery, Gallery TPW, University of Manitoba School of Arts Gallery, Niagara Artists Centre, The Reach Gallery Museum, and Capture Photography Festival, among others. Her work has been featured in Hamilton Arts and Letters, Femme Art Review, The Gathered Gallery, Other Peoples Pixels Blog, Canadian Journal of Culture Studies, and BlackFlash Magazine. She is the recipient of several awards including Ontario Arts Council Visual Artists Creation Project Grants for Emerging Artists, Canada Council for the Arts Research and Creation Grants, the Keith and Winifred Shantz Internship Grant, Sylvia Knight Award in Fine Arts (co-recipient), Ontario Graduate Scholarship, and a President's Graduate Scholarship from the University of Waterloo. She is a sessional instructor at the University of Waterloo where she recently received an Excellence in Online Teaching Award. She lives and works in Hamilton.


"I am a sculptor who fell in love with images. In my installations, photographs, and sculptures, I explore ephemeral and intangible phenomena like time, light, memory, the senses, space, temporality, and perception through image and material form. I have a fascination for both the act of making with materials and my hands, and the making of images. Over the past decade I have produced sculptural installations using photographs on transparent film and other fragile semi-translucent materials like silk and backlit films that engage with the poetics of time, memory, chance, perception, light and the senses. The materials I work with - like my photographs on transparent film - change based on the time of day, or a viewer's perspective. Combining the intangible principles of photography —light and time— with the material aspects of sculpture, I explore the luminous, fragile, and transient properties that photographs on transparent film bring to concepts of memory, the passage of time, motion, and space. I often work with photographs on transparent film and other suspended, ephemeral, translucent, malleable, or fragile materials that embody the slippery space of thought, memory, time, and the act of making. Folding, curling, draping, layering, and bending images within space, I create immersive experiences and intricately layered installations that evoke reverie, sensory comprehension, embodiment, and memory formation while questioning how our bodies flow through space and perceive images. Pinning my photographs to the wall in layers or undulating waves and draping them over wood, metal, and plexiglass structures, my installations become experiential encounters that speak to the poetics of light and memory, collapse time and space, question our relationships with the material and immaterial worlds we exist in, and how we understand memory, physical, and psychological space."


Image: Natalie Hunter. Edge of Sky. 2020-21. Detail.